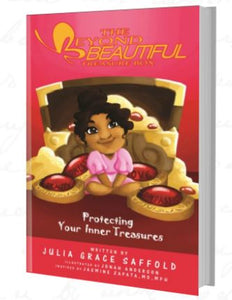 The Beyond Beautiful Treasure Box - Protecting Your Inner Treasures
Regular price $ 20.00 $ 17.00 Sale
Join Princess Aameira and Prince Miguel on a thrilling adventure to recapture their stolen treasures from the Ugly Frog Queen. With a little help from Mr Wise Old Owl, they learn the secret to regaining their hidden treasures. This inspiring fairy tale will stimulate discussion and empower youth to always protect their inner treasures such as; courage, resilience, self worth and confidence no matter what obstacles may come their way. At the end of the book, there are reflection questions that can be utilized to stimulate meaningful conversations with youth.
Recommended for elementary aged students in grades K-5. 
This fun and exciting adventure is written at a 3rd grade reading level, but can be read by parents/caregivers to children as young as Kindergarten.